This year has been marked by events that both citizens and companies did not expect. The rapid response and capacity to adapt to changes have been the only solution for all of us to move forward.
Many organisations have been forced to change their working methods and have had to include new tools to advance in their digital transformation. At Megacall we also had to adapt to the new situation, working from home and using VoIP telephony to continue serving customers and suppliers from anywhere. Our mission has always been to continue supporting our clients no matter what the circumstances.
Although it has been a difficult year for many businesses we want to highlight the positive side and review everything we have to celebrate. From here we want to send a lot of encouragement and luck to all our customers and suppliers, and we hope that 2021 will continue to bring them success.
What has happened at Megacall during 2020?
Below we are going to look at all the news and events that have happened during 2020 at Megacall.
Launch of a new website
We have a new image and a new website, which we have made more intuitive and with a more up-to-date design. The intention is to make it easier for the user to find our services and obtain all the necessary information quickly and easily.
In addition, you can create an account in a matter of minutes and contact sales directly through a live chat.
Two new services: SMS and Time Registration
Our development team has created two new platforms to offer new services, which are very useful due to the current situation.
On the one hand, the new SMS platform allows sending bulk SMS by uploading a contact list or using it to send individual messages. It can be personalised with the name of each contact and you will only pay the cost of the message depending on the destination.
In the case of the software for Time Registration, it allows you to register the working hours of your employees by phone by dialing a PIN, an internal extension or a phone number.
The company celebrates its 12th anniversary
Last July Megacall celebrated its 12th anniversary. Megacall is a multilingual business that has evolved looking after a multitude of businesses in over 30 countries and with its in-house system taking care of administrating clients with the optimal routes depending on quality and price and spread over 16 different carriers from 14 countries specialising in our international traffic, which gives Megacall an edge on the rest.
It was established in the last recession of 2008, mostly with UK clients in the financial world, real estate and timeshare industry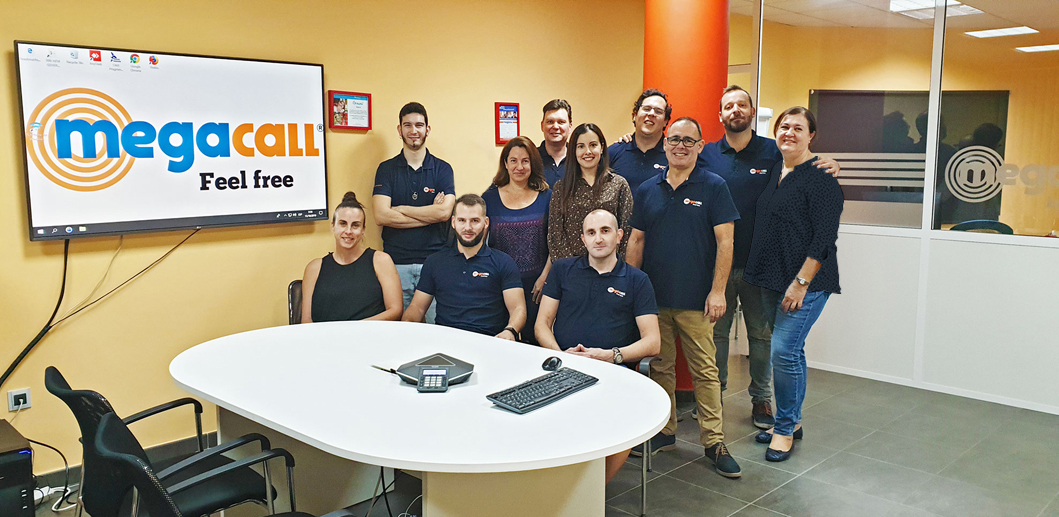 Record turnover
Almost coinciding with the 12th anniversary of Megacall we also celebrated a record increase in turnover during the month of June. Our turnover hit a record 40% increase.
This milestone helped us to strive even harder to deliver world-class telecommunications and achieve excellence in our customer service. In fact, following a survey of our customers, 84,6% of the participants rated our customer service as very positive and 7,7% as positive. While 61,5% are highly satisfied with our services and 23,1% very satisfied.
We remain international
We have the main base in Malaga and an office in England. Our presence is global and we have a large international client base. This is why we have developed a multilingual team that provides technical and personalised assistance to all clients.
This year we have added clients with companies in countries such as Belgium, Bolivia, Bulgaria, Colombia, Denmark, France, Germany, Hong Kong, India, Ireland, Israel, Latvia, Lithuania, Mexico, Morocco, Netherlands, Portugal, Romania, Russia, Singapore, South Africa, Spain, Sweden, Switzerland, Thailand, Turkey, United Arab Emirates, United Kingdom, United States, and Uruguay.
Social responsibility
For years Megacall has been aware of its role in society and supports different causes such as Children's Villages. During 2020 we have started to collaborate with two new organisations: José Carreras Leukaemia Foundation and Samaritans in Spain.
The development team grows
Our in house development department has been increased by 50%. We have new team members in order to deliver better and faster services to our customers.
Megacreative
We have expanded our services offering web design and digital marketing solutions especially dedicated to freelancers and emerging companies, although they are also adapted to businesses that have been on the market for some time and want to renew their image. This new line is born under the name of Megacreative.
Getting ready for 2021
At Megacall we want to continue growing and improving the services we offer to our customers. For this reason, we are already working on new technologies and online platforms – both internal and external – with the aim of offering a more efficient and intuitive service to clients, suppliers and employees themselves.
In addition, our technical support team continues to be trained and to acquire the latest certificates. They have recently obtained the 3CX Advanced Certificate.
We will continue to put our efforts into improving our performance and team, something that has a direct impact on the quality of our services. Furthermore, we look forward to launch new services next year.
Coments