In this post, we are going to see some examples of how to adapt VoIP telephony to your business.
As we mentioned in a previous post, VoIP telephony, i.e. telephony that works over the Internet, will end up being the only solution for all companies and freelancers from 2023 onwards, as analogue telephone networks will cease to operate and will step into digital telephony. By 2025,
ISDN lines
are expected to be switched off for good.
This is why we recommend that you make the definitive leap to VoIP telephony as soon as possible in order to get your company used to working with other systems.
Although in this sense there is no complicated process since the telephone lines will continue to work in the same way, only the voice data will be sent over the Internet. Contents of the post:
Advantages of implementing VoIP telephony
VoIP telephony facilitates customer service
Call centre services can also benefit from VoIP telephony
Examples of uses of VoIP telephony in companies
Advantages of implementing VoIP telephony
It will be much easier to extend extensions, have voice mailboxes, personalised messages, automatic telephone replies informing of office hours or asking the user which department he/she wants to speak to and referring him/her directly to that department. In addition,
virtual telephony allows you to have special virtual telephone numbers, national or international
, so you will have a stronger presence in certain countries even if your office is only in one place. These numbers allow you to make both outgoing and incoming calls.
Migrating ISDN lines to VoIP is very easy,
you simply need to contact a
VoIP operator
, port your number and contract the best calling plan for you. You can have a virtual switchboard, a software for call centres, SIP trunk, and many other features offered by the online world.
VoIP telephony facilitates customer service
According to a study conducted by Sotto Tempo Advertising, 72% of the Spanish population has used a customer service in the last year.
More importantly, 74.6% of the population considers that customer service directly influences their decision to buy or repurchase a service.
The most used contact channels were the
telephone (83.50%), the web (38.80%) and e-mail (35.20%)
. Users find it easiest to contact companies through the app, web and "click to call", while the channels they find most difficult are postal mail, social networks and email. With a VoIP phone system you can improve customer service channels and call answering flow. Since it allows you to integrate with your CRM and have all the information about the customer at the moment when they call. At Megacall we have been offering virtual telephony solutions to companies and freelancers for more than 12 years. If you need to create your plan
contact
us and we will give you an answer the same day.
Call centre services can also benefit from VoIP telephony
In the contact centre sector, companies that use this service – whether in-house or outsourced –
use it for customer service activities (92%).
Some 60% use it for orders management and tracking services and 56% for sales services.
Companies in this sector are particularly concerned with providing quality service and personalised attention to ensure customer loyalty and repeat purchases of their products or services.
To this end, there are call centre softwares that can be accessed through the browser – without installations – and where you only have to pay for the price of the calls and not for agents. You can customise the interface to suit your business, add customer data, integrate it with CRM, etc.
Megadialer is one of these call centre solutions as well as having a predictive dialling function.
Examples of uses of VoIP telephony in companies
Here we are going to see some practical cases of companies that have asked us to include VoIP telephony in their business and what functionalities they have required.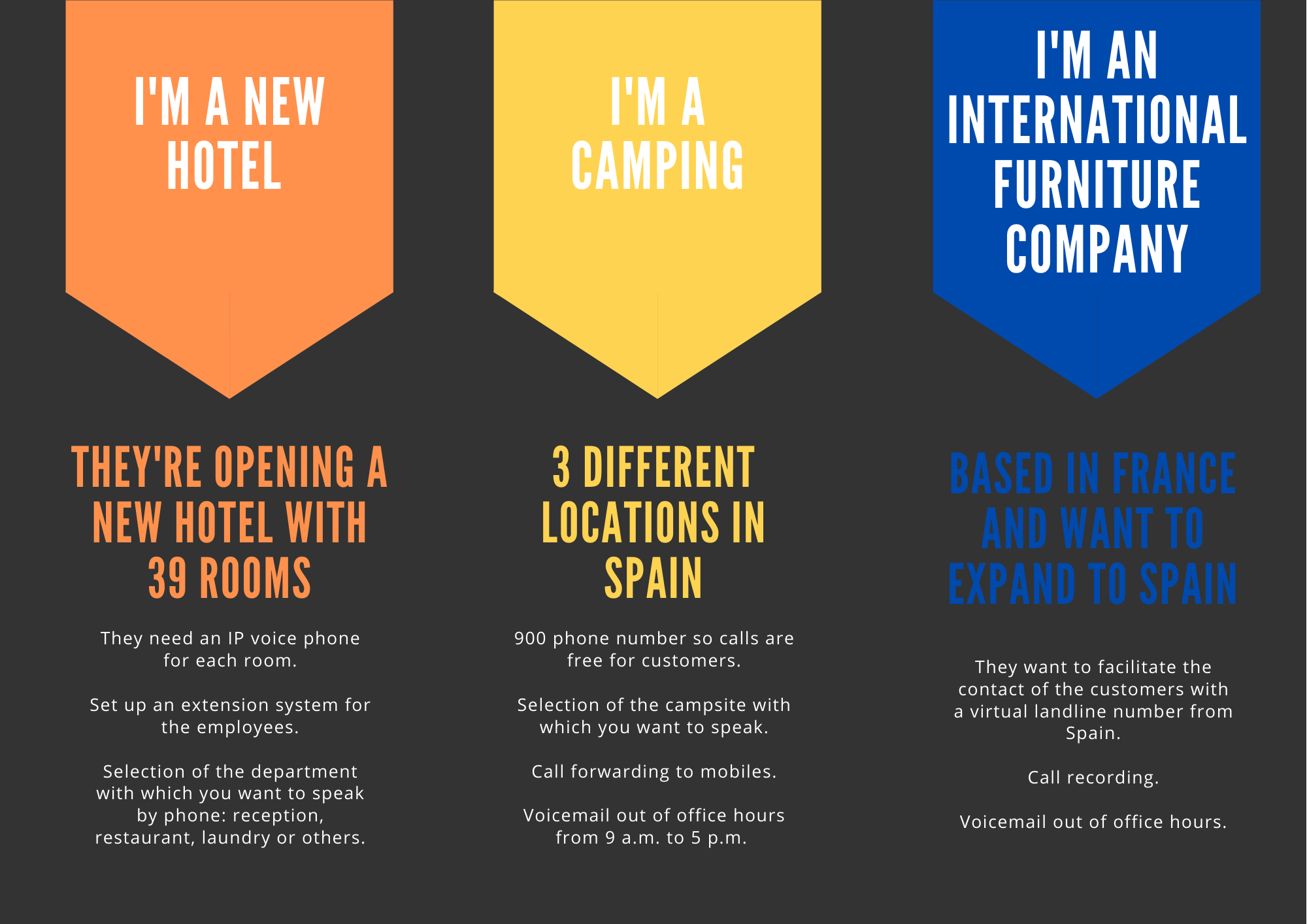 I'm a camping
This is a campsite with 3 different locations in Spain. It wants to have a 900 telephone number so that the call is free for customers and so that when they call they get an automatic voice response asking for information about the campsite they want to talk to. The call will then be forwarded to the mobile phone of the person in charge of the specific campsite chosen by the user. In addition, call answering will only be available from 9am to 5pm, so outside these hours it will go to voicemail.
I'm an international furniture company
A company that sells furniture, whose headquarters are in France, has decided to expand its deliveries to Spain. This is why it needs a virtual switchboard with 1 user to answer the calls, as for the moment there will only be one person answering calls in case of any incident or questions. It needs a virtual landline number from Spain so that the new customers located in Spain can call a telephone number known by them and thus show that proximity to the customer and facilitate contact.
I'm a new hotel
They are opening a new hotel and it will have 39 rooms. They need an IP voice phone for each room and set up an extension system for their employees. With a virtual switchboard when someone calls from the room they can select whether they want to speak to reception, restaurant, laundry or others. In addition, alarm clocks can be set up so that the phone rings and wakes the guest up if required. From the outside, when someone calls the hotel, they will also listen to a voice call to choose the department they want to speak to. As we can see, with VoIP telephony there are countless applications and adaptations, if you also have in mind to improve the communication system of your company do not hesitate to ask how we can help you.
Sources:
Contact Center Hub
Europapress
Coments