SMS marketing has many benefits if you incorporate it into the overall strategy of your business. Today 92% of customers have a mobile device, which helps to reach them more easily and directly. If you also want to incorporate a program to send bulk SMS from PC, here's how.
How to install a program for sending bulk SMS from PC?
Send bulk SMS globally step by step
Advantages of using SMS software
Examples of SMS marketing campaigns
How to install a program for sending bulk SMS from PC?
SMS marketing campaigns help to build customer loyalty and attract potential users. Something that can be done automatically with a software for sending bulk SMS.
Installing a program to send bulk SMS from PC is very simple and fast. Thanks to the existing cloud services we can access the platform to send bulk SMS in a few minutes. As soon as we contract the service with the company, you will obtain a user and password to enter the program through the browser of a computer, although you can also access via tablet or cell phone.
Megacall's bulk text messaging service has an intuitive interface and a panel in which you can manage your users and see the reports of the messages. The cost to use this software will depend on the balance you recharge, which will only be used for sending messages. Therefore, the only thing you will pay is the cost of the SMS according to the rates of the destination.
Send bulk SMS globally step by step
In order to send bulk SMS from PC you simply have to do the following steps, with platforms like MegaSMS you will be able to send information to your customers or launch marketing campaigns.
How does it work?
Recharge your account with the budget you have for your text messages campaign.
Access the platform with the username and password that will be provided to you.
Send the message individually or in bulk. It is as easy as uploading contacts in a CSV file. You will be able to personalise the messages with the name of each client.
Then write your message or choose from the list of templates. You can create your own templates with customised messages so you can use them quickly and easily whenever you need to. Add the name and message, and save it. You will be able to select your template when sending an SMS.
Click on the send button.
Check the reports of the text messages.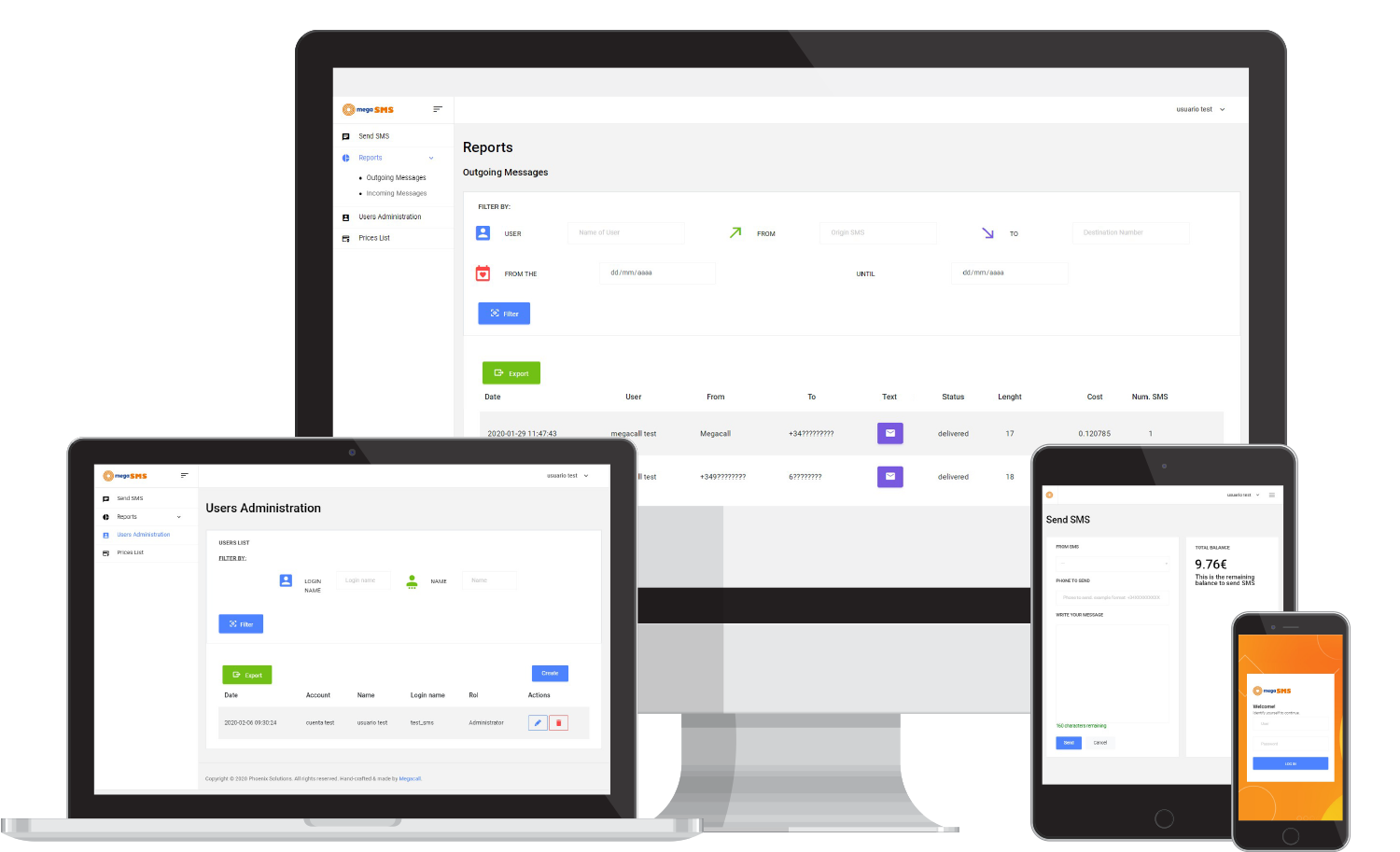 Advantages of using SMS software
Some of the advantages of having an SMS marketing strategy and sending bulk text messages to your customers are the following:
Possibility of doing campaigns with very economical rates
You can personalise the message and add the name of the sender as well as the recipient
It is a direct and close communication channel
When we receive an SMS we open it even if it is out of curiosity. Therefore, if our message is attractive we will have more probabilities that they read our offer or visit the link
It has an opening rate of 95%.
With the metrics provided by the software for sending bulk SMS we can see the opening data and the effectiveness of the campaign
It can have several uses: offers, notices, appointments, alerts, doubts, purchase confirmation, purchase shipment or delivery notice, customer service, among others.
It is a key piece in the loyalty strategy
Examples of SMS marketing campaigns
As Inboundcycle points out, the messages we send will depend on the objectives of each campaign established by the company. Some of the most common uses of sending bulk SMS from PC and examples of SMS marketing are the following.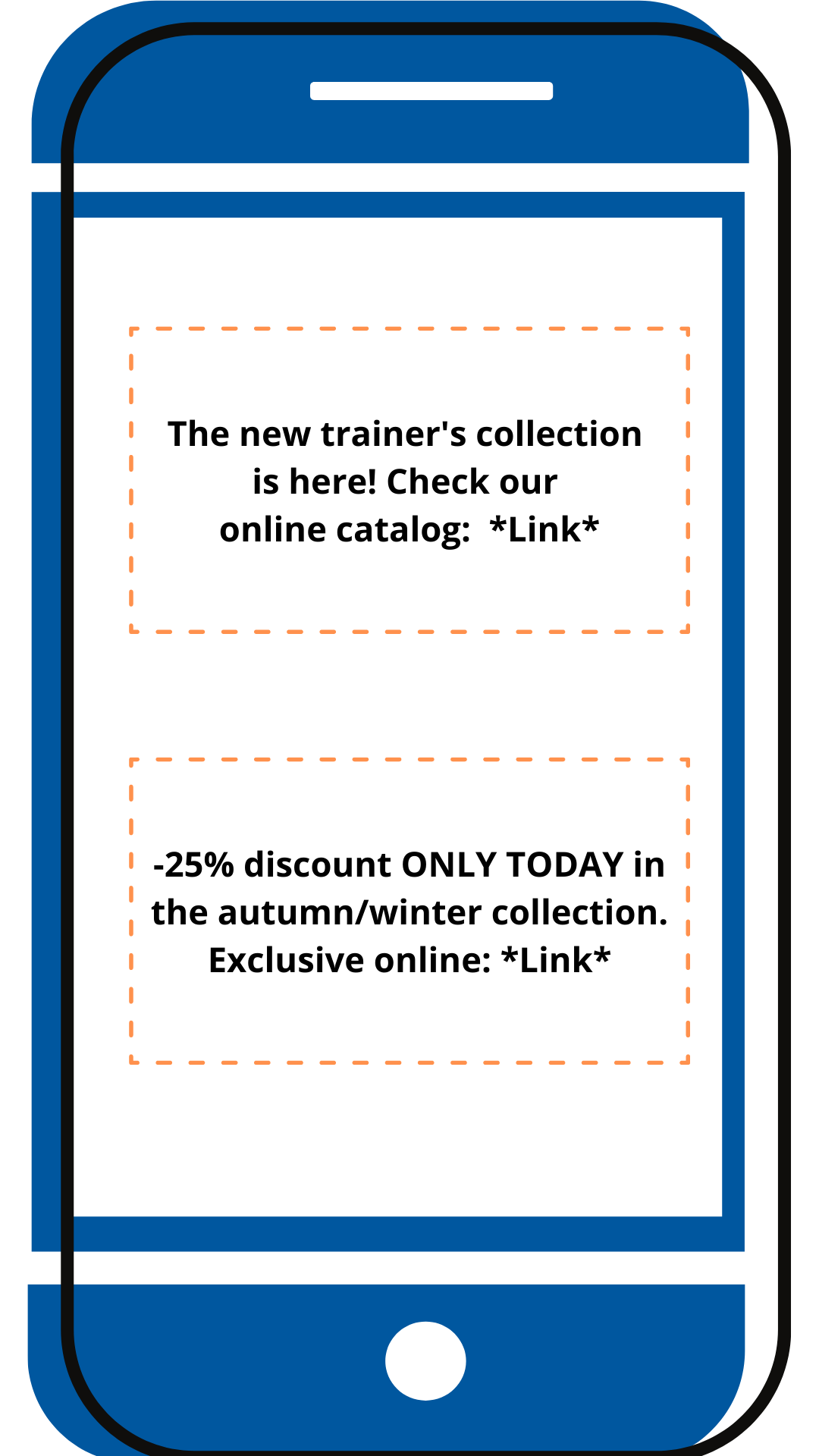 Promotional campaigns

In this type of campaign, it is necessary to make clear to the recipient what action he or she must take to obtain the discount. You can send them a promotional code or a link to the website or a landing page. Keep in mind that it must be optimized to be viewed from the mobile.
Stock or liquidation campaigns

These campaigns have similar characteristics to the previous one, but they play with time, since the promotion is limited and can last a few days or if there are very good prices, only a few hours.
Launching campaigns of new products or seasonal

In the message you send you can also include a link to a catalog, either to the web or a PDF, so it is a very useful channel to present new product collections or news for next year.
Remember that in addition to conducting SMS marketing campaigns you can also use this communication channel to remind customers about appointments or congratulate them on a special occasion.
Coments