In this post, we are going to tell you how much money you can save with VoIP telephony, which allows you to make calls through the internet and has had a great advance in the last few years. More and more companies are implementing it in their offices (although as we will see later you do not need to be in the office to use it).
Communication between a small, medium or large company and its customers is essential for the operation of a business, as well as contact with suppliers, employees, and managers. That's why having a professional telephone system and saving on telephone bills will make your company much more efficient.
Let's see all the details about how to save with VoIP telephony.
Importance of VoIP telephony
Save with VoIP telephony
How to get a VoIP phone system?
Importance of VoIP telephony
E-commerce and digital transformation have impacted the marketing, sales, and customer service areas of all companies. All those that want to advance and survive have to adapt to the situation and offer a multi-channel communication. Customers demand to be able to communicate with companies through different channels according to their preferences, so we find emails, instant messaging applications, chatbots, social networks, and the telephone.
For example, due to the pandemic in which the world has been immersed by the coronavirus VoIP traffic has increased by 500%, thus making it possible to telework to end the displacement. This is a clear example of the quick adaptation that many companies have had to carry out in a short time since many of them did not yet have VoIP telephony and have seen how it is a good solution for their communications.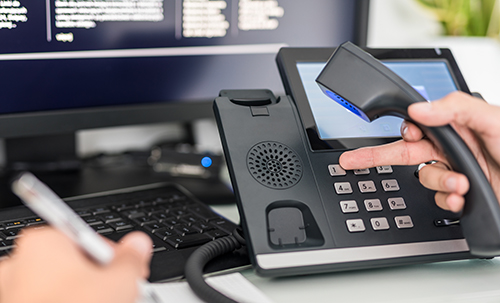 VoIP telephony offers great flexibility for teleworking, as it does not require a fixed infrastructure. As long as you have a computer, an internet connection, and a phone that allows IP voice or an app on your mobile you can use it wherever you are.
Therefore, it does not require a fixed location or large infrastructure, which allows a reduction in costs, and calls over the Internet are cheaper than traditional telephony, and it is for all these features that it has become an important pillar for both internal and external communication of companies.
Save with VoIP telephony
We can save with VoIP telephony due to several reasons:
The cost of the seconds/minutes of calls over the internet is less than the traditional telephone networks.
The cost of international calls is lower thanks to the facilities offered by the internet.
It does not require installation or the displacement of a technician. There is also no cost for equipment maintenance.
You can benefit from call center softwares where there is no cost per agent. You only pay for the minutes of the calls you make.
Calls between employees' extensions are free.
There are packs with unlimited minutes according to reasonable use.
According to a study you can save up to 30% on your phone bill and 90% on international calls as we can see below.

If you want to know more about VoIP telephony and discover its advantages check this other post.
How to get a VoIP phone system?
Getting a VoIP telephony service is very easy and you only have to take into account your needs:
Choose a new phone number or use the one you already have.
How many phone numbers you will need to use.
Know what numbers you will need to show when you call someone, such as if you want a local phone from an international destination.
How many extensions you need for your employees.
How you will receive and make calls: through a landline, mobile phone or a softphone.
What features you want to include: call recording, voice mail, call conference, call transfer and forwarding, IVR, etc.
At Megacall we can advise you on how to choose the best plan and start saving with VoIP telephony.
Coments