When it comes to selecting a VoIP provider to make a SIP Trunk configuration it is important to choose the right features and technical specifications, and negotiate the right terms and pricing. It is best to work with a company that has had real world experience with this type of service.
In this post we will talk about 3 things or features to consider when setting up a SIP Trunk.
Before the existence of SIP Trunks, the only option was to connect physical digital or analogue lines from a Telco to make or receive calls in and out of a PBX. It took at least 6 weeks to set up these "circuits", so there was no possibility to quickly add or remove channels when needed.
With this in mind most organisations over-provisioned their trunk circuits to handle the busiest time of the week smoothly; to avoid callers finding busy lines. But that came at a high cost.
Today you can increase or decrease the number of SIP channels needed in a matter of minutes thanks to cloud-based technology. You simply need a virtual PBX to send and receive calls.
How do you know what you need to configure a SIP Trunk?
If you are looking to improve your communication channels and need a SIP Trunk operator, you must first decide what are the right features to use it in the most effective way possible and with a good quality/price ratio.
Let's see what you need to take into account to configure a SIP Trunk.
1) Usage
If you are starting to consider switching to SIP trunks to reduce costs, the most important factor in your configuration will be the number of SIP Trunk channels you need. After all, one of its main advantages is the ability to adapt on demand.
This allows you to pay for fewer trunks and then pay a small additional cost to increase your channels during peak periods. At Megacall, for example, we offer up to 50 free channels, where you only pay for call minutes. Above that number there will be an additional cost.
2) Costs
You have to consider whether you prefer to pay for the cost of the calls – so every month the bill will be different as it depends on the number of minutes consumed – or choose a closed pack that will allow you to know what the fixed monthly cost will be.
Depending on the number of simultaneous calls, the number of minutes to landline or mobile, and whether they are national or international calls, the price will vary. You can see the packs in this link.
3) National or international traffic
Depending on the needs of your company you can choose national or international destinations, something that you will have to take into account when calculating the price of your tariffs and what you will pay per minutes or seconds.
In addition, if you need international traffic we recommend working with providers that have carries in different countries and continents so you do not have connection problems with your calls. At Megacall we offer more than 20 interconnections with calls to almost all over the world. And direct routes in Spain, France and United Kingdom.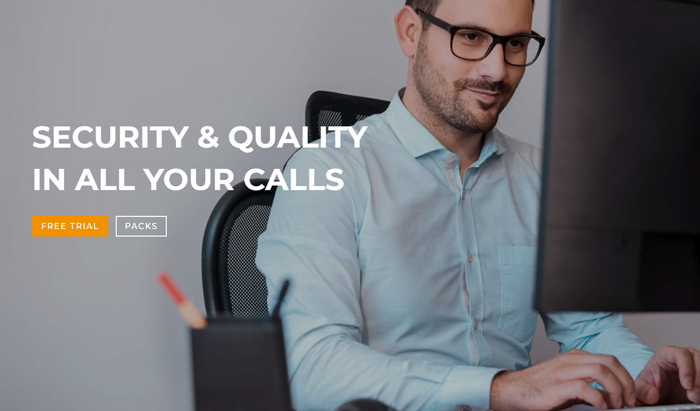 SIP Trunk configuration with Megacall
At Megacall you can have your SIP Trunk configured on the same day. Our set up is almost immediate and you can have your SIP Trunk up and running in a matter of hours.
We get very competitive prices thanks to the more than 16 international carriers we have – we always make sure that the calls go through the best provider at the best price -. We support Codecs such as G711A (PCMA), G711U (PCMU) and G729.
On the security side we first use your fixed public IP to authorise traffic and then offer 3 security authentication methods. You will always have support from us. In addition, you will have full control to manage the CallerID (CLI).
We help you set up a SIP Trunk with all major providers:
Cisco SIP Trunk configuration
Avaya SIP Trunk configuration
Asterisk SIP Trunk configuration
Elastic SIP Trunk configuration
3CX SIP Trunk configuration
FreePBX SIP Trunk configuration
Every company is looking for ways to reduce costs or find budgets for new technologies or applications. Meanwhile, those same companies are overspending on their monthly trunking costs. By switching to SIP trunks, you can expect to see savings over your traditional trunks.
It is really worth taking a look at your current trunk usage, costs and research on SIP Trunks.
If you need help get in touch with us.
Coments